9:55 AM
Onionknight ,
0 Comments
Cosmicbreak is a free to play third person shooter which combines a formula of anime + mecha for appealing character design.
The community is composed of loli's, mecha girls and gundam fandom up the arse !!!!
Graphics are outdated, population is low and it seems to have frequenent issues with server stability. But if you can overlook these flaws I am sure you will find a rewarding and entertaining experience ...... *cough*
Controls: B+
The controls in cosmicbreak is actually fairly good and seemed to have been designed for individuals new to the online gaming scene. Controls for movement are based around WASD + mouse aim format. There are only 3 hotkeys you need to know off (space, shift, enter). SIMPLE RIGHT ? AND THANK GOD FOR THAT !
Unlike the mecha games in the past, it isn't a clutterfest with 20 hotkeys and forcing you to break your fingers across a keyboard. I still remember the old days of mechwarrior where i spent more time looking at my keyboard and manual (which we had back then), then actually looking at my computer facking screen !
Cosmicbreak doesn't redefine the keyboard setup but it makes it accessible to the most incompetent of noobs.
Graphics: F+
The graphics are probably the worst part of the game. The blockiness of the characters give the game a kinda charm but the lack of antialiasing gives it a rough edged look. But the biggest flaw of them all is that the game is stuck in 800 x 600 resolution !
For a lot of players nowadays it makes this game so stretched and ugly in full screen mode. This might have been acceptable back in the year 2000? But nowadays even the shittest of games should be able to run past default. I MEAN FOR FUCKS SAKE. EVEN QUAKE II HAS BETTER RESOLUTION. I have to fail cosmicbreak on this part
Gameplay: C+
The gameplay itself can be seperated into 3 modes. ARENA, QUEST and MISSION. Arena is the pvp portion of the game. You can either fight under your faction or against random individuals. The objective in Arena is basically whoever can reduce the other teams contribution to zero. Each time a robot or structure dies, that team loses contribution points.
The other modes Quest and Mission are actually identical to each other. Missions consists of a series of levels, each with a mini-boss and robot mobs. At the last level, you fight a final big boss and earn a little cut scene which explains how you "saved the universe". Quests on the other hand are just like one big Mission. The only difference that i can see is in missions, you have to kill all the mob robots before you can proceed and in quests you can just avoid them and run to the final boss.
All this really shows me is the lack of content available for the game, thus they have to rebrand certain aspects of the gameplay. But on the bright side, it is a step up compared to most F2P mecha games available because most don't offer a story portion to it and instead rely just on pvp.
Character Design: AA+

The character design is probably an anime lovers dream. I mean sure they give you loli's, gundams and mecha girls. But they also give you an amazing editior tool to create your own 3d models !! And look at the results !!!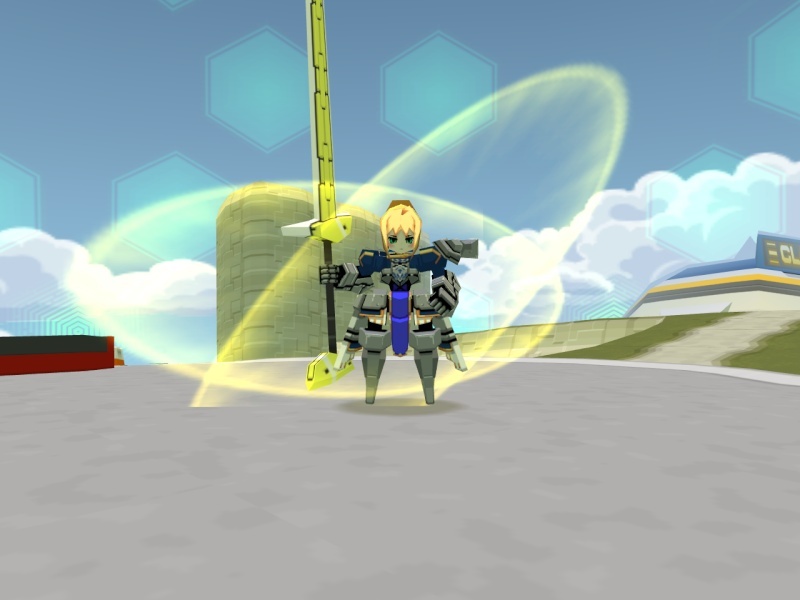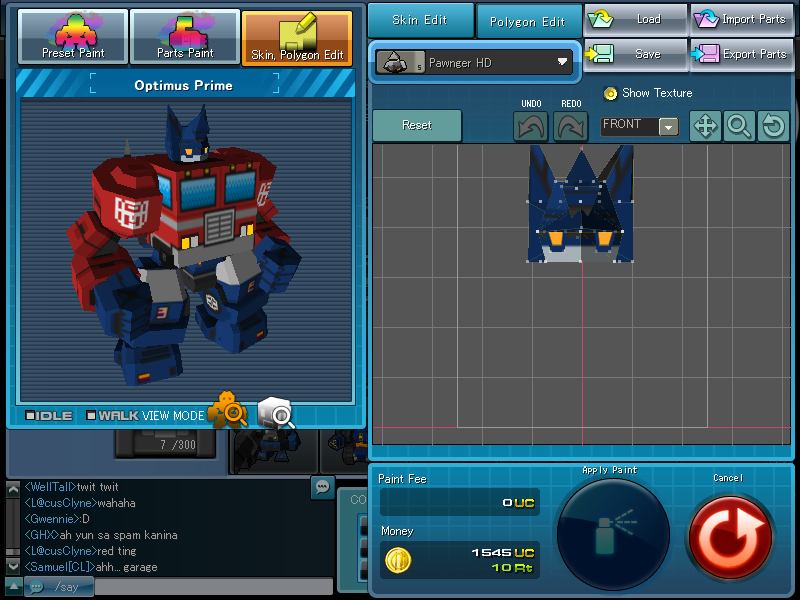 I mean fack. If i am playing a mecha game and I can literally become OPTIMUS PRIME !! It is instant WIN !!.
LATENCY: D-
IT FACKING SUCKS BAWLS. I NEVER SEEN SUCH A SHITTY LAGGY FUCKING GAME. Sorry *cough*. But with all do respect, I have never seen such a poorly handled situation of server lag where management would put up an "Emergency Patch", that made the server even more laggtastic, and then just completely ignore the communities complaints.
THIS IS BAD PR. To all MMO operators out there, never do this ..........EVER if you wish to survive. If something is wrong, tell the community upfront, say you will fix it,
LET THEM FACKING KNOW THAT YOU PLAN TO CONTINUE IMPROVING THE GAME
. If all you do is keep silent, ignore the problem, and hope rolling out perks will make people come back to your game
(which they won't)
, then you are just lying to yourself. Always involve yourself with the community, prove that you aren't just there for a fast money grab, and admit to your mistakes.
All you need to do is this:
"
The emergency patch did not work like we expected, so we will be investigating the source of the problem and try to fix it ASAP. Very sorry for the inconvience my fellow Cosmicbreakers
"
HOW FACKING HARD IS THAT. WELL FACK THIS, FUCK THE SYSTEM, FUCK GOD DAMN COSMICBREAK. I RATHER DRINK MONKEY PISS THAN PLAY THIS SHITTY GAME IN 800 x 600 resolution. I RATHER SHIT OUT A TOOTSIE ROLL AND THEN REGURGITATE IT THAN WATCH ONE OF THE WORST HANDLING OF COMPANY TO COMMUNITY RELATIONS IN ANY MMO.
Final Score: C
I want to see a small game like Cosmicbreak to succeed, but I just can't see it happening. It has so much potential, great players and probably has the best controls of any mecha game I have seen in my life. But shitty service, lag issues, poor resolution and a lack of things to do hamper its development.
If the makers of cosmicbreak put more time and effort into finishing this "incomplete" product, it would have been golden. If the "owners and operators" actually put more time into communicating with the community it would have been a pleasureable experience.
But it is not. I am sorry Cosmicbreak. But you had to FACK EVERYTHING UP. _--ll--_